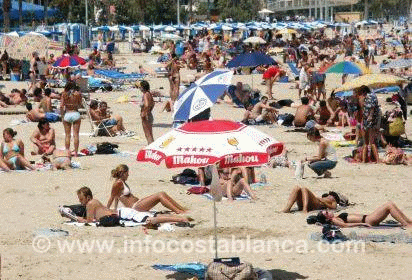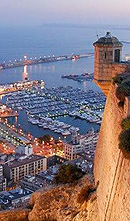 Alicante
Alicante the capital of the Costa Blanca offers the most varied landscapes and the most enviable contrasts.

A cultural city with parks, gardens, night-life and a city centre with lots of businesses. Alicante also enjoys its fine sand beaches with multiple services.

The beaches, port and promenade are characteristic for Alicante.

The fine sands of San Juan beach in the north stretches 3 km to Cape Huertas which separates it from the popular Albufereta beach. In the south of the port lies Saladar beach.

The port is the busiest leisure area in Alicante with restaurants, pubs and discos, a yacht club and marina with possibilities for learning to sail.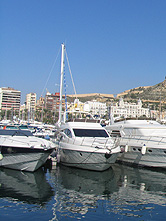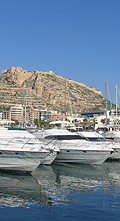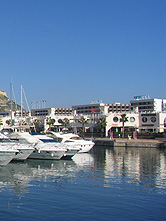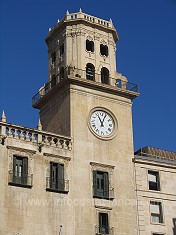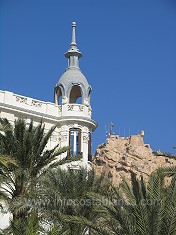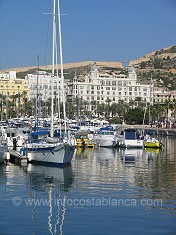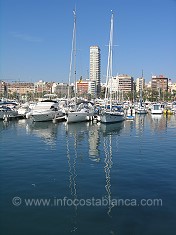 Points of interest
Church of Santa María
Cathedral of San Nicolás de Bari
The Santa Faz monastery
Castle of Santa Bárbara (wonderful view)
The City Hall,
The San Fernando Castle
The Provincial Archeological Museum
Museum: Colleción Capa
Museum: Wells (Pozos) de Garrigós
La "Asegurada" Municipal Museum
Nativity Scenes Museum,Canalejas park
Park El Palmeral,
Land of Valencia Theme Park
Park lo Morant,
Park Benacantil
Explanada de España,
Casco antiguo (old quarter)


Fiestas
January: Porrate de San Antón
February: Carnavales
March: Moors and Christians in Villafranqueza
Week after Eastern:
Fiesta of Santa Faz
May: Cruces of May
June:
Moors and Christians in San Blas
Hogueras de San Juan
Medieval Market
July: Virgen del Carmen
August: Fiesta of Moors and Christians
Virgen del Remedio
September:
International Festival of contempory music
Virgen del Socorro



Beaches
Playa San Juan
Cala Palmera
Cala de los Cantarales
Cala de los Judios
Playa de la Almadraba
Playa de la Albufereta
Playa del Cocó
Playa del Postiguet
Playa El Saladar


Gallery Alicante