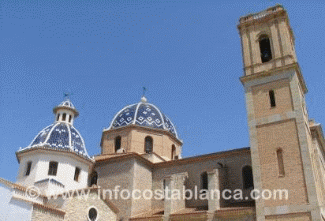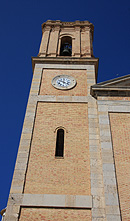 Altea
A visit to Altea starts at the highest part of the town. From the Plaza de Nuestra Señora del Consuelo, boasting a church topped by unique blue and white tiled cupolas, a magnificent view over the district can be gained.

Cobblestoned streets and steps descend the hill, flanked by whitewashed houses, which were once protected by town walls.

At the foot of the hill is the fishermen's quarter, now enlivened by a seafront promenade and a port, which keeps the town busy.

Along streets and around plazas, craftsmen and artists mingle with holidaymakers and neighbours to form a captivating crowd.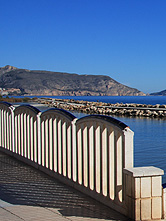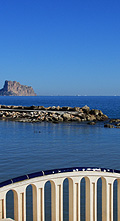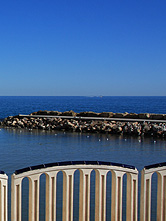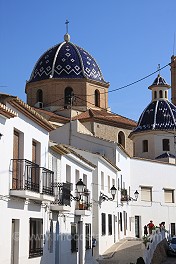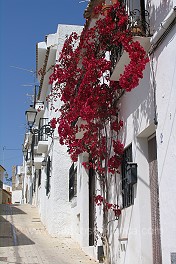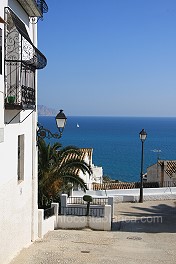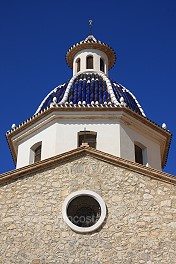 Points of interest
Casco antiguo
Church of Virgen del Consuleo
Labyrinth of small streets
Beautiful Lookouts over the bay of Altea
Galleries with Hand-crafted goods

Beach Area
Seafront esplanade adorned with palm trees
San Pedro Street

Altea la Vella
Church Santa Ana
Fountain El Garroferet

Surroundings
International Music Center (Villa Gadea)



Fiestas
January: Cabalgata de Reyes
Cabalgata de Reyes en Altea la Vella
February: Santísimo Cristo de la Salud de Altea la Vella
April: Semana Santa, Sant Vicent Ferrer
June: San Antonio (Partida Cap Blanch)
San Juan (Partida el Fornet)
July: San Pedro y la Virgen del Carmen
San Jaime (Partida Cap Blanch)
Santa Anna en Altea la Vella
August: San Roque (Partida la Huerta)
San Lorenzo (Partida La Olla, Castell)
San Luis (Partida el Barranquet)
September: San Tomas (Cap Negret)
Fiestas Patronales Cristo del Sagrario. Moros y Cristianos
December: Santa Barbara
Purísima Concepción en Altea la Vella
Fiesta de Fin de Año en la Plaza Iglesia



Beaches
Playa de la Olla
Playa del Cap Negret
Playa de la Roda
Playa del Cap Blanch
Playa del Mascarat


Tourist Information
Tourist Info Altea
Plaza José María Planelles, 1
03590 Altea
Tel.: 96 584 41 14
Fax: 96 584 42 13
Email:
altea@touristinfo.net
Gallery Altea
Links of interest
www.palaualtea.com
Palau altea
www.altea.es
Town hall