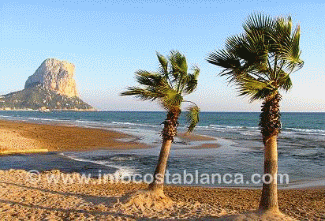 Calpe
Calpe sits close to the Rock of Ifach on a hill rising up from the last spurs of the Sierra Bernia, a geographical marvel that provides access to the northernmost towns of Alicante's Marina district.
lt is an authentic tourist site, with a coastline boasting sandy beaches and cliff faces in some areas, also the salt sea give to the town a special flavor.

Next to the seafront promenade are the remains of an ancient fish salting factory from Roman times.

Calpe's fishing port comes alive with hustle and bustle as the afternoon fish auction draws near.

On the Restaurant terraces the costumers have the possibility to try some of the fresh local shellfish.
In the old town center are some points of interest to visit.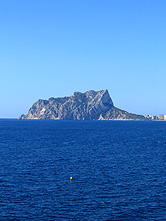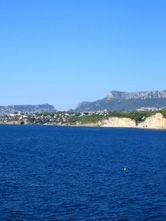 Points of interest
Old town
Church of Nuestra Señora de la Nieves
Iglesia Vieja (Old Church)
Torreón de la Peca (Tower, Town Walls)
Forat de la Mar (Part of the exterior wall)
Arrabal (Puchaltstr., San Roque Str.)
Fishermen's square ( Plaça dels Mariners)
Mural Mosaic, Festivities Museum, Museum of Archeology,
Calpe Port
Walk to the summit of the Rock of Ifach Nature Park Peñón
Promenade of the prince (Camino)
Auctions at the Fish Market (Lonja)
Beach Area
Modern seaside promenade
Banys de la Reyna
Torre del Moli
Surroundings
Salt flats (migratory birds)
Hermitage of San Salvado,
Hermitage la Cometa


Fiestas
January:
The Three Kings
February:
German Carnaval
March:
Fallas (St. Joseph's Day)
June:
Hogueras de San Juan
July:
Celebration to honour the patron saint of "la Virgen del Carmen"
August:
Festival to honour "la Virgen de las Nieves"
October:
Beer Festival
Moors and Christians


Beaches
Cala les Urques Playa
Puerto Blanco
Cala la Manzanera
Playa Arenal-Bol
Playa Cantal Roig
Cala El Racó, Cala del Penyal
Playa Levante o la Fossa
Cala Calalga, Cala del Mallorquí
Cala les Bassetes


Gallery Calpe
Gallery Calas and Playas