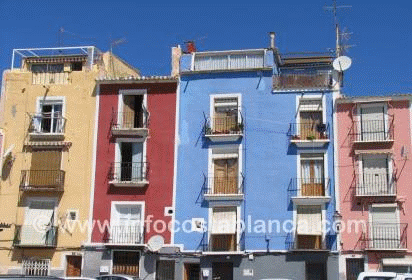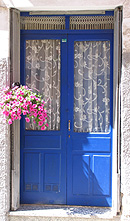 Villajoyosa
La Vila Joiosa is the historic capital of the Marina Baixa district.
It is a fishing port and tourist attraction in one. The port and seafront promenade, in the Arsenal quarter near the sea, are surrounded by multicolour houses built around a church dedicated to the Assumption.

The Doctor Esquerdo boulevard runs along the broad beach on which the town is built.
A visit to the port in the afternoon will provide you with the chance to see the day's catch being auctioned off at the market.

The whole town's marine vocation is represented in the July fiestas, when the traditional battle between the Moors and Christians is held at sea and on the beach.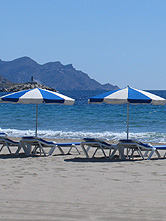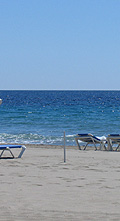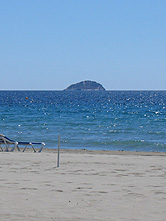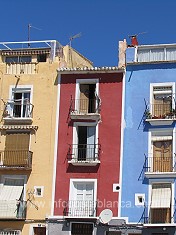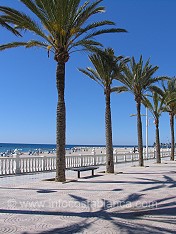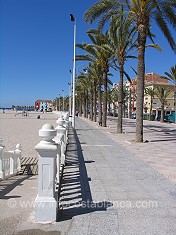 Points of interest
Old quarter ( with painted houses)
Church of Nuestra Señora de la Asunción
Roman Tower of Sant Josep
Archaeological excavation
Local Archaeology and Ethnology Museum
Chocolate Museum
Seafront esplanade (Paseo Maritimo)
Fish exchange with the traditional auction


Fiestas
May:
Fiesta of St Maria
July:
Fiesta of Lady of Mt Carmelo (Procession and popular games)
Moors and Christians
September:
Fiesta of the Archangel San Miguel


Beaches
Playa Racó del Conill
Playa del Torres
Playa dels Estudiants
Playa de Mal Pas
Playa Centro
Playa del Paradís
Playa del Bol Nou
Playa de Esparrelló
Playa de la Caleta
Playa del Xarco


Tourist Information
Tourist Info La Vila Joiosa
Calle Colón, 40 (Xalet Centella) 03570 La Vila Joiosa (Alicante)
Phone: 96 685 13 71
Email:
touristinfo_vilajoiosa@gva.es
Gallery Villajoyosa
Links of interest

www.villajoyosa.com/sites/desembarco
Fiesta: Moors and Christians