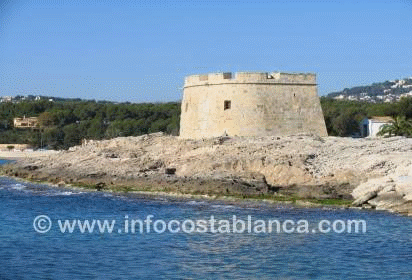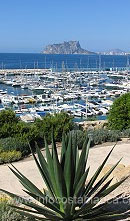 Moraira
Moraira is a small fishing village dominated by the tourism and is a part of Teulada which is situated 4 km inside in the Hinterland.

Moraira is a small and lovely town with natural beaches, rocky bays and sandy beaches.
The castle at the beach is the emblem of the town.

This old fishing village have been developed in the last years in the summer months to a popular holiday destination but have preserved his originality.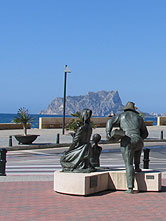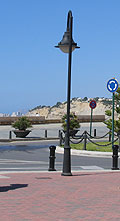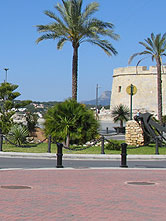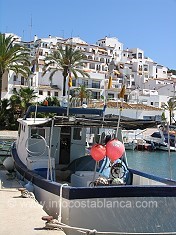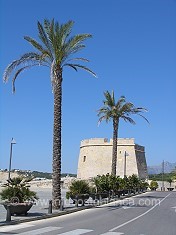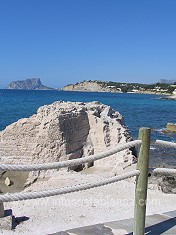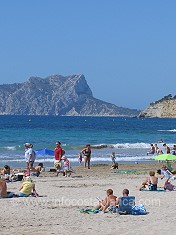 Points of interest
Surroundings
Moli de Castellons
Creueta del Ave Maria (iron cross)
Font de l'Horta (fountain),
Ermita Font Santa (fountain, pilgrimage), Pouet del Moro,
Watch tower Cap d'Or (wonderful views), Cova de les Cendres  

Teulada
Sala de Jurats y Justicies, Casa Presor
Parish Church Santa Catalina
Chapel la Ermita de San Vicente
Chapel Divina Pastora

Moraira
Castle of Moraira (Torréon)
Iglesia de la Virgen de los Desamparados, Port areal
Comercial center of the summer
Lonja del Pescado with the auction


Fiestas
January: Night Procession
February:
The festivites in honour to San Blas
After Easter: Local fiestas in fonour to San Vicente Ferrer
June:
Fiesta of Moors and Christians
The magic night of "San Juan"
July:
Fiestas of "Font Santa
Fiesta to honour "Mare de Deu del Carme" and the "Mare de Deu dels Desamparats" (procession, fireworks)
Fiestas in Benimarco
Fiestas of "Els Sants de la Pedra"
August: Fiestas of l'Andrago
September:
Fiestas of Moscatell
November:
Fiestas in honour to Santa Catalina



Beaches
El Portet
L'Ampolla
Les Platgetes
Cala Andragó


Gallery Moraira