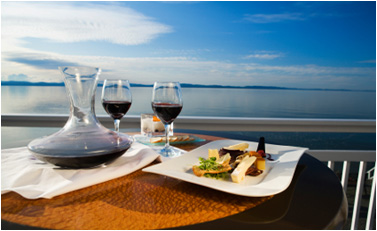 The fish and seafood of the bay with fruits and vegetables from the nearby orchard, accompanied by the prestigious wines of the earth, make up the core of a healthy and natural gastronomy
The rice constitutes one of the great chapters in the culinary history of this region. You can cook it in more than 300 different manner of ways and styles:
- arroz a la marinera (fisherman's rice)
- arroz al horno (oven-baked rice)
- arroz amb fesols i naps (with beans and turnips)
- arroz con costra (topped with a "crust" of omelette)
Other variations allow for the rice to be flavoured with squid (calamar) and tunny fish, chicken and fillet of pork, baby squid (chipirones) and garlic shoots, or tunny fish and shrimps (gambas).

At the seaside, shellfish and salt-dried fish are on the menus of every restaurant. The day's choice might include gilthead (dorada), bass baked in salt (lubina a la sal), seafood with a squeeze of lemon, or some delicious sea-fresh red mullet (salmonete) and whiting (pescadilla).

In the mountain areas, rice forms an integral part of the olleta, a typical dish in which it is mixed with pork, sausage meats, pumpkin, turnip, chard stalks, chickpeas and string beans.
The inland areas offer excellent meat dishes, e.g. pork, cutlets, rabbit cooked in garlic and tomato, leg of lamb, and local sausage meats.

The mouthwatering desserts of the Alicante region feature Jijona turrón, ice-cream, grapes, raisins, dates and almond pastries
---
Recipes

Empanadillas

Ingredients: from the dough: 1/2 kilo flour, 1 spoonful of coffee salt, 1/4 liter oil, 1/4 liter water, yeast from the filling: 2 tablespoons oil, 2 onions and peas, 4 eggs or 200 g tuna , 1 tablespoon sweet paprika.
Preparation: filling: Boil the eggs. Sauté onion and peas and add tuna and chopped eggs. Let cool.
Recipe of Caldero

Ingredients for 4 people:
oil, 3 ñoras, 3 cloves of garlic for each diner, 3 tomatoes, 2 kilos of trash, 2 or 3 liters of water and 1.5 kilos of strong rock fish: chicken, rat, grouper ...

Preparation:
The ñoras are fried golden brown, then the garlic and the striped tomatoes. In a pot boil the mozzarella for 10 to 15 minutes, strain the broth and throw the fish. To this broth is added the ñora and the garlic, all chopped, and the fried tomato. Let it boil at medium heat for 15 minutes maximum at medium heat.
From the dough: Put all the ingredients of the dough in a container and mix. They make balls that are flattened with the kitchen roll. Each unit will be filled and bent into a half-moon shape. Finally put on the baking tray and spread with beaten egg.

Boquerones en vinagre

Ingredients:
half a kilo of large anchovies, two glasses of vinegar, olive oil, 4 teaspoons of salt, chopped parsley, a glass of water, 3 cloves of garlic.
Preparation:
Clean the anchovies, removing the head and thorns. Separating the two loins, they wash very well in cold water.
Drain and in a bowl prepare the vinegar, water and salt moving well until the salt has dissolved. Pour a loin of anchovy into the liquid and check if it floats in the middle, which will indicate the exact point of salt and vinegar. If you do it on the surface, you have excess salt. If it sinks, it has excess vinegar. Correct the mixture and once it has been done, place the rest, cover the container and let it marinate in the fridge for 24 to 48 hours. To serve them, wash well in cold water, place in a dish and cover with chopped garlic and parsley, and with the oil.